You guys! Halloween is tomorrow- if you don't have any plans here are some fun fandom activities to (s)carry you through the night.
1. Carve a Fandom Pumpkin
What better way to give your fandom a little Halloween flair than to carve it into a giant, orange vegetable for the neighborhood to see. I feel like it is a time honored tradition to have at least one fandom pumpkin out on display. Over the years I've seen pumpkins from Totoro to How to Train Your Dragon. Over at Forbes they have a collection of Geeky Pumpkins to get you inspired if you don't know what to do.

2. Dress up as your favorite Character
Halloween is the one holiday a year where Geeks can easily celebrate their fandoms by cosplaying (and not at a convention.) If your going to a Halloween party or even meeting kids at the door now is the perfect time to dress like our fandom heroes. Some recommendations: I'm sure kids would love to receive candy from their favorite heroes such as the Cast of Steven Universe, Adventure Time, Sailor Moon, or Marvel Heroes.
3. Listen to Evil Dead Musical Did you know there was a Evil Dead Musical? There is an Evil Dead Musical- and it is amazing. The entire soundtrack is on Spotify now and if you're celebrating a quiet Halloween at home (or carving that fandom pumpkin) put this soundtrack on and laugh along with the lyrics. Listening to Nightmare Before Christmas is also acceptable.

4. Supernatural Marathon
No other show (or fandom) is more perfect for Halloween than Supernatural. I mean ghost hunting, Winchester brothers and nearly ten seasons worth of episodes to watch now is the ULTIMATE time. Heck, invite some geeky friends over and make it a thing. Pick the top ten Supernatural episodes or play the Supernatural Drinking game. Either way, you're guaranteed to have a great time.

5. Watch Over The Garden Wall
If you're not in the mood for something scary that's alright too! Over the Garden Wall is the perfect substitute for the generic Halloween Scary. The show has definitely Halloween themes and flare while introducing the viewers to a quaint fantasy world. The music is amazing, the humor is spot on and its just a general pleasure to watch. AND you can watch all the episodes on Hulu now.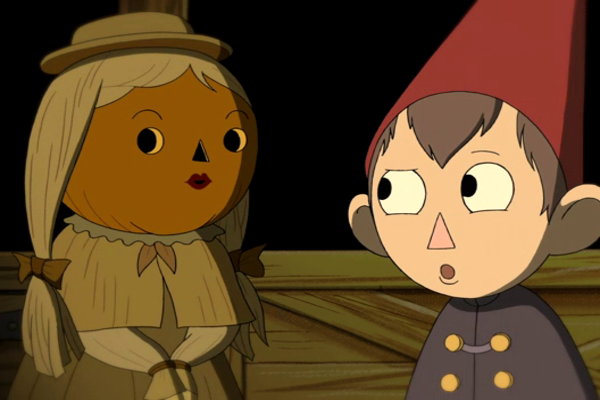 A round-up of internet things For Fans, By Fans, with the Help of Fans 
The Steven Universe Fandom has been declared the ABSOLUTE WORST yesterday for driving a fan artist to suicide. The Daily Dot gives you a pretty good rundown of the events. It's really awful to see such bullying in a fandom that promotes strong messages of acceptance and understanding.
Netflix released information detail when viewers actually become fans of a show. The results are a fun and interesting read.
Welp, it's that time when Star Wars Fan Theories run amok! TV Nerd Darling Stephen Colbert threw his own theory into the ring the other night, but my personal favorite is discussed over at Looper and it has to do with Kylo Ren's identity. 
If you're feeling a little more light hearted Metro put together a list of 21 things you only understand if you're in a fandom.
Every fan knows the PAIN of waiting for that one special movie. Fangirl (and voice of a thousand fans) Leigh Lavha has created another video showing all the stages of awaiting for the year's biggest movies.